Inside JGL – A new and exclusive article series into the drivers of our enterprise
For the first article of the series, Jereld Lim meets Panruang Yothaprasert (Tommy), an avid blogger and the General Manager of JGL Thailand.
Jereld Lim
Assistant to Executive Office
27 September 2021, 12:00 PM GMT+8 | Read Time: 04 Minutes
Being my first write up for the series, I was initially sceptical about the approach I was taking. Perhaps I should have sent them the questions first I thought to myself, challenged by how candid the answers would be then if I did so.
With a leap of faith, I began the online interview on Zoom with the commander of our branch office in Bangkok, Tommy.
Tommy is the General Manager (GM) of JGL Thailand. Upon graduating from university in 1999, he joined the logistics industry, serving tirelessly in three companies before stepping up to lead our Thailand office in 2017.
A bubbly face appears on my screen at 3:15 PM on a humid Wednesday afternoon, spinning his chair around to peel off an out of place looking pink sticky note off the wall behind him, upon hearing that the interview was going to be recorded.
I explained to him the purpose of the interview quick and wasted no time in posting him my 1st question: "Tell me more about yourself."
"Myself? I don't know how to start", he chuckles.
He begins with the standard corporate chronological introduction of oneself before discussing about his journey as the GM.
"The first three years was really hard" he recalls, explaining that his plan for JGL Thailand did not go as intended.
"But, I think this year, this is my luck. I think this year is going well for me" he adds, which was music to my ears.
"I enjoy connecting with others", he said.
I find out not long later that he is an active member of BNI®, a networking organisation of entrepreneurs which come together weekly to discuss on how they can help their businesses grow.
A good mindset
Tommy attributes his working style today to the networking organisation he is a member of, BNI®.
"Your mindset changes, the world is not only what you see", he proclaims. He calls it his philosophy – connecting with others.
I take this opportunity to ask him what the strengths of his branch office is and not long later, we're back to the topic of mindset again.
"JGL Thailand is not only strong because of the services we can offer, but also because of our mindset."
"With a good mindset, our customers will work with us because they trust that we can take care of their needs and provide better solutions."
Tommy believes strongly in up keeping corporate social responsibility together with his team. The photos were from a recent donation drive with a Member of the House of Representatives (Thailand) and Parliament (MP).
Eager to discover how it would feel like to be a member of his team in this ever-changing industry, I asked Tommy to give me three words which describes JGL Thailand the best.
After a good forty seconds of thinking, he tells me to hold on in excitement and pulls out his phone.
The three words (or rather six since they were two sets of three) were on his blog, 'Logistics Addict by Tommy', which I will share more about later.
Sense, Emotional, Attitude
Control yourself, Alter your thoughts, Delete negativity
Puzzled by how they were related to my question, he explained that these three words (or rather six) were the strengths of him and his team. He believed that without equipping his team to serve with these six key words in mind, his team would not have been able to obtain the trust many consumers have in them today. Ah, back to the topic of having a good mindset again.
'Logistics Addict by Tommy'
Not wanting to occupy more of his time as I had much to digest, I posted my last question, prompting him to begin sharing what his personal blog was all about.
"You want me to talk about it now?", he asked, eyes brightening up in disbelief that he finally got to speak about what he is passionate most.
Logistics Addict by Tommy is a personal blog on Facebook managed by the man himself. Established last August, Tommy discusses about anything and everything relevant to global trade and the logistics industry with a commendable following of 800 followers on the page.
"I want to be someone who provide answers and share my knowledge of the industry."
It is certainly written with passion I thought, as I scroll through his blog to be greeted by the vibrant colours of the graphic filled facts and numbers – many of which were designed by himself.
"Once I can connect with more people, I will start a school."
He shares with me about his plan to provide courses on the various freight solutions available, down to the technicalities.
Envious me, as the courses will probably be conducted in Thai of which I wouldn't understand.
"Right now, times are different. More are on social network, especially teenagers", he said as he concluded by sharing that he hopes to inspire the next generation of logisticians.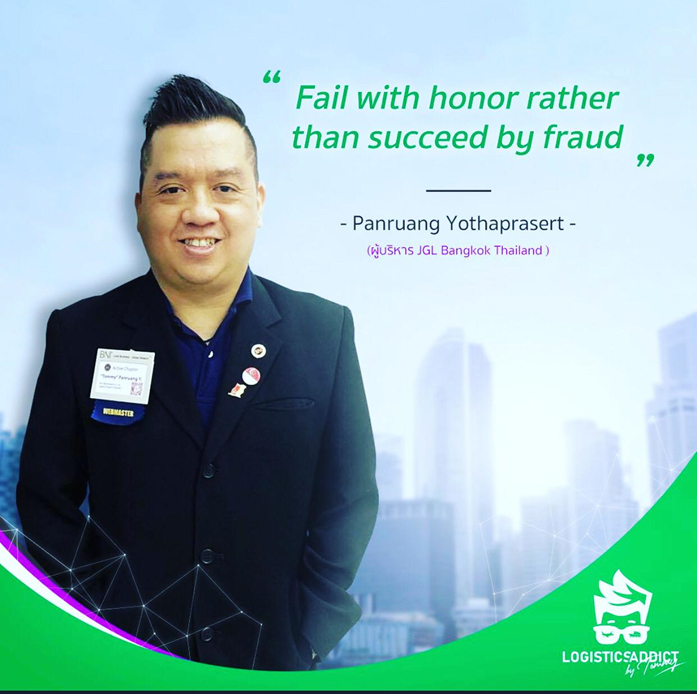 We've been talking then beyond the schedule initially planned and should be wrapping up.
I concluded the interview and thanked him for his time.
Certainly, an enlightening interview it was for a first.
Link to Tommy's blog: https://www.facebook.com/LogisticsAddictbyTommy
JGL WORLDWIDE (THAILAND) CO., LTD.
Location
216/70 L.P.N. Tower 16th FL, Nanglinchee Road,
Chongnonsee, Yannawa, Bangkok 10120, Thailand
Contact details:
(66) 02 285 4488